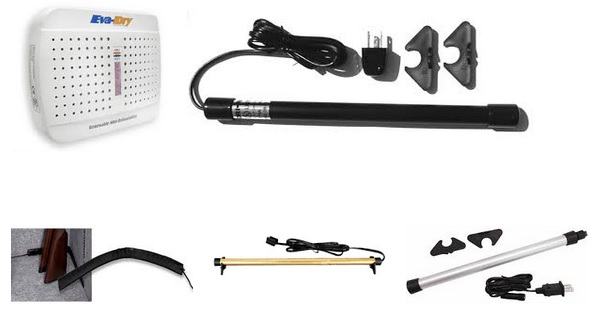 What is a gun safe dehumidifier?
If you are a collector of weapons like guns, rifles or shot-guns then you know that it is extremely important to keep them in good condition. So, you have to clean them constantly, but also to take care of the environment that you keep them in. Guns usually are susceptible to humidity, so if you are careless you will soon find out that some of your weapons are getting rusty. In order to prevent this from happening you can start using a gun safe dehumidifier. Whether you own one or not can be from great significance for the life of your firearms. The dehumidifier protects your guns from moisture and controls the temperature of the gun safe. Do not hesitate to get one if you want your weapons to last longer. Especially if you live somewhere around a swamp or in a damp environment – in this case you can get even more than just one or a bigger one. You will find them in different sizes.
Of course, you will find different types of dehumidifiers, too.
Lockdown dehumidifier rod
These dehumidifiers look exactly like a rod. It would be a good choice for your gun cabinet. It is absolutely easy to be installed and you can decide if you want to leave it on the bottom of you safe or to install it on one of the walls. Depending on how big is your gun safe, you can choose between a few sizes. It heats the air enough to create the perfect temperature and you can move it to a different place when you need to. The only thing that you should be aware of is that it can get too hot to be touched.
Goldenrod dehumidifier
It works a lot like the one mentioned above. It is a small heating element that makes the air in the safe a little bit wormer than the air of the room it`s in. By keeping the moisture out of the safe, the goldenrod dehumidifier creates nice and dry surroundings for your valuable guns. They offer a perfect quality and are considered as the best on the market. The best thing about this kind is that they are usually sold with a lifetime warranty. And again – if you own a big safe, make sure you get two of these.
Wireless dehumidifier
These dehumidifiers absorb the water and also will prevent rust and corrosion of your firearms. It works pretty well and it is rechargeable. There is a color indicator on top of the device which shows the level of humidity and you are supposed to recharge it once in every 2 weeks. The charging takes approximately 4 to 5 hours. Plus, the compact design of this dehumidifier makes it easy to be handled. Their price is affordable, but there is no lifetime warranty.
Silica gel dehumidifiers
Silica gel is a desiccant that adsorbs water. The advantage for this option is that you will not need any batteries to revive the gel, you just have to put in the oven. And do not worry – it is not poisonous. Keep in mind, though, you would probably have to keep it in the oven for at least three hours. Unfortunately, these dehumidifiers do not cover big spaces, so be careful when you decide how many will do the work for you.
Now, just think about how much money you have invested in your guns, gunshots and rifles. Be ready to invest some more in their protection. This money will be well spent and will pay off with prolonging the life of your precious firearms. Every gun safe owner should have one of these accessories, in order to maintain a good and dry environment for what is inside the safe. All you have to do is do a little research and get the one that meets your expectations. After all, you do not want the guns that you spent so much on to be rust – eaten or damaged because of your irresponsibility. If you are a proud owner of one carefully picked out gun collection do not stop just there. Take a good care of it. The gun safe dehumidifiers are you best chance to do it.